**Before reading this post please refer to our update here**
Twilert's Geolocation tool is unique, in that it allows you to search for tweets sent from somewhere as specific as a street or landmark. Twitter's own Geolocation search tool allows you to pinpoint tweets sent 'near me' or within so many miles of a specific City or Country, for example 'near: London within: 25mi' but for businesses and individuals, this often doesn't provide high-value results.
To narrow things down even further, we developed a one-of-a-kind Geolocation tool that allows you to zoom in on any area in the world, just like you might if you were using Google Maps and find tweets sent specifically from within that area.
For localised businesses, in particular, this is a useful way to find the tweets that matter to your business.
Twitter Geolocation Tool
How does it work?
Imagine you are a hair salon in London, looking for new business. Perhaps you want to look for the keywords hairdresser and recommend in order to find people who are looking for a hair salon in your area.
Once you have decided on the most important keywords to search for (and we recommend no more than 2 or 3) you can then employ our 'filter by location' tool in order to search for those keywords within any specific area.
For example hairdresser recommend near Islington: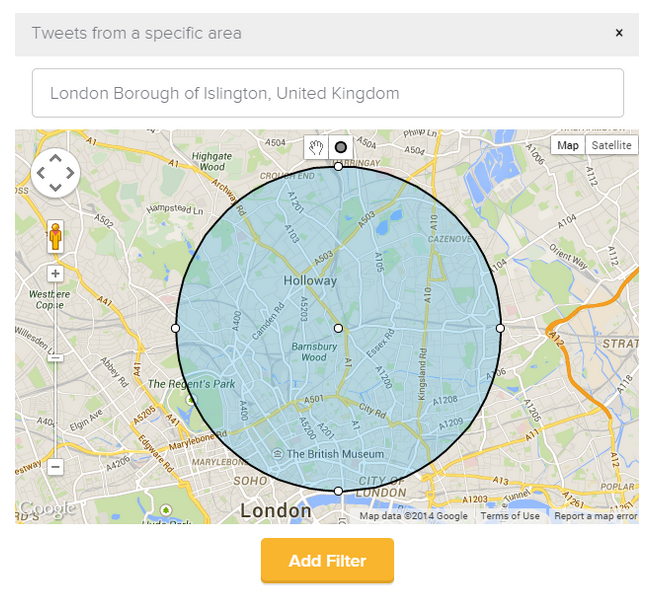 This would help the user to find a list of tweets from people within that area, some of whom, will be looking for a recommendation for a hair salon. If this was your business, you could then send out a simple reply or tweet inviting them in or even offer them an introductory offer, guaranteed to get them through the door.
This also works well for B2B businesses, particularly if they are holding an event or have a sales team who work on localised appointments. For example, if you're a marketing agency exhibiting at the Digital Marketing Show in London, perhaps you want to create a search that looks for tweets sent within the area of London ExCel, where the event is being held, on the morning of the event.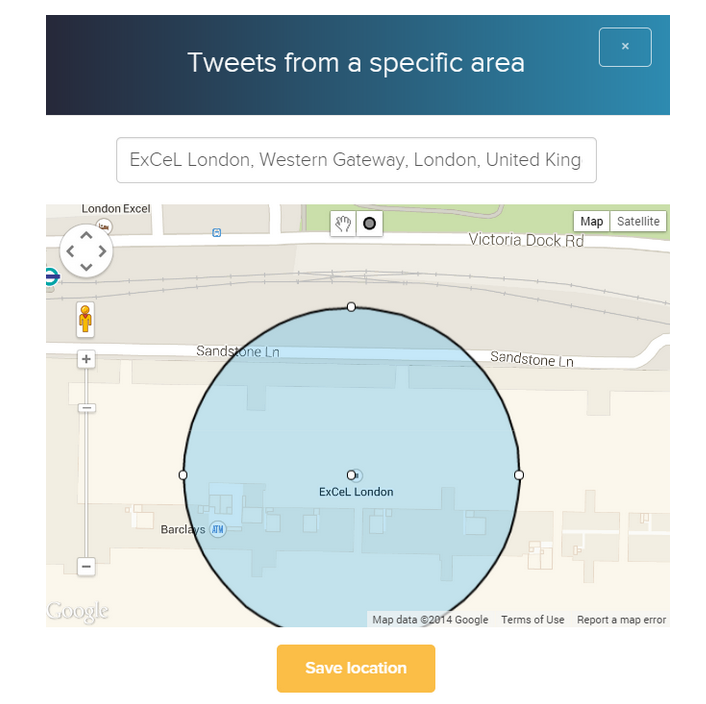 This would then provide a list of people who had tweeted from within that area, who may be visitors that your company would like to meet. By welcoming them to the show and letting the visitor know your stand number, it is then easy for you to draw attention to your presence at the show and engage with more visitors as a result.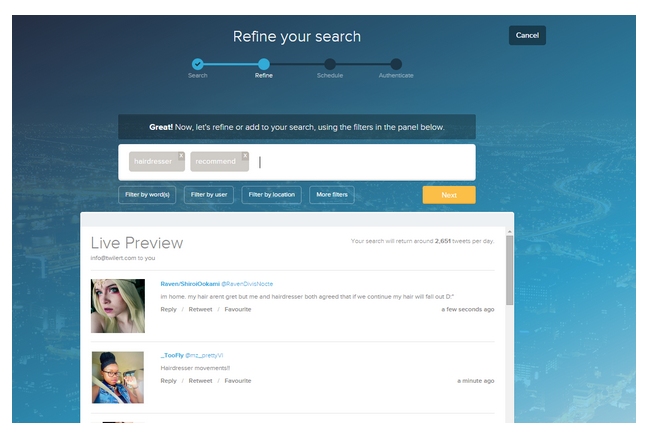 If you need any help setting up your first Geolocation search within Twilert, please do not hesitate to contact us at support@twilert.com or on Twitter- we'd love to hear from you!