Every day, as we watch businesses and individuals harness the power of Twitter Search, in order to find new leads and uncover opportunities, there's one thing we still wonder. Why aren't more companies doing it? Surprisingly, Twitter Search is still one of the most underutilised marketing tools that social media has to offer. It can help businesses to find leads, gain followers and become more 'intune' with what their target audience is looking for. Yet, only a fraction of businesses are employing it as part of their marketing strategy. Even though it's free, available to everyone and super simple to use (I know – we don't get it either!)
So to help more users uncover the opportunities that Twitter Search has to offer, we've put together 5 innovative ways you can use Twitter search today, in order to find leads and increase sales.
Read on to get started……
Twitter Opportunity Finder
1. Competitor search
If you've ever struggled to find qualified Twitter users to follow, then this one's for you. By looking at those who are mentioning and engaging with the tweets of your competitors, you can soon see who might be interested in your own product or service. To get started, find who your top 3 competitors are and locate their handles on Twitter. Next, enter a simple search using just their handle. For example, if you're a publishing house that specialises in women's fashion you might want to search @VogueMagazine in order to see a list of leads, who already talk about fashion and are engaged with posts that write about it.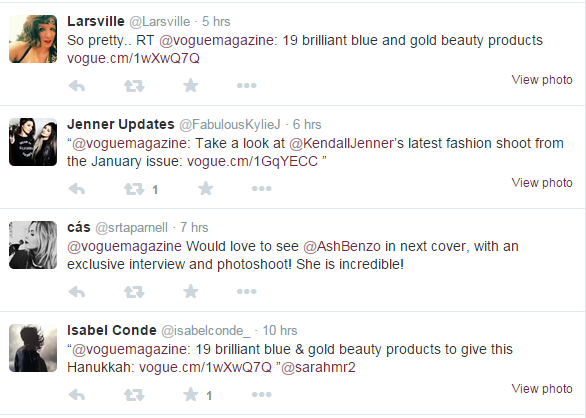 All you then need to do, is follow these users or engage with their tweets, in order to gain followers and alert new users to your presence.
Top tip: If you want to be super clever, you can employ the 'OR' Twitter search operator and hit them all at once, for example: @stylistmagazine OR @VogueMagazine OR @glamourmag
2. Question time
There are always people turning to Twitter in order to ask questions and get help. One way to join in the conversation, is to search for these questions and help answer them. For example, if your company specialises in Cashmere clothes, you could think about some of the commonly associated questions that users may tweet about Cashmere. For example, how to wash it effectively. A simple search such as Cashmere ? wash would produce the below results: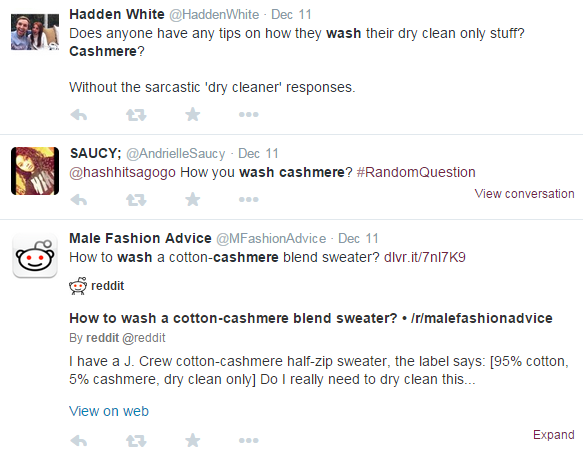 By responding to users, this reinforces your brand's identity as an authority in this field and ensures that they know where to turn, next time they need to purchase their cashmere.
3. The review search
If you're a company whose product or service gets reviewed on sites such as TripAdvisor or Yelp, you can use Twitter search as a smart way to track down who is talking about your business or looking for reviews about your company.
For example, if you were a hotel chain you could use the search tripadvisor Hilton in order to find out who is writing reviews of your business and then sharing them with their followers on social media.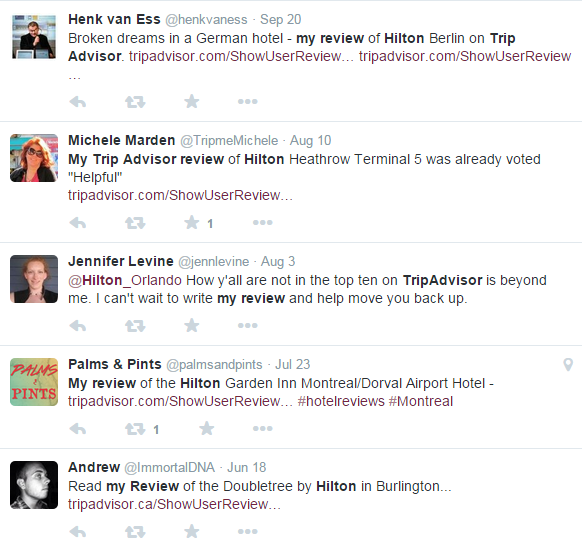 This provides you with the opportunity to both reward brand advocates and also to find out which areas of your business may need troubleshooting.
4. The 'in the area' Twitter search
Twitter search allows you to see what people are saying but in some cases, it also allows you to see where they're saying it from. Using the Twilert geolocation tool is the easiest way to do this, as it allows you to pinpoint an area using a street name, postcode, city or country and then zoom in on any tweets sent from that area. You can also combine this with a simple keyword search in order to narrow down your search and find tweets that are relevant to your business, in any particular area.
For example, searching for Chocolate Festival and selecting the Business Design Centre using our geolocation tool, would help you to find any tweets that have been sent directly from within the event venue, while the event is happening.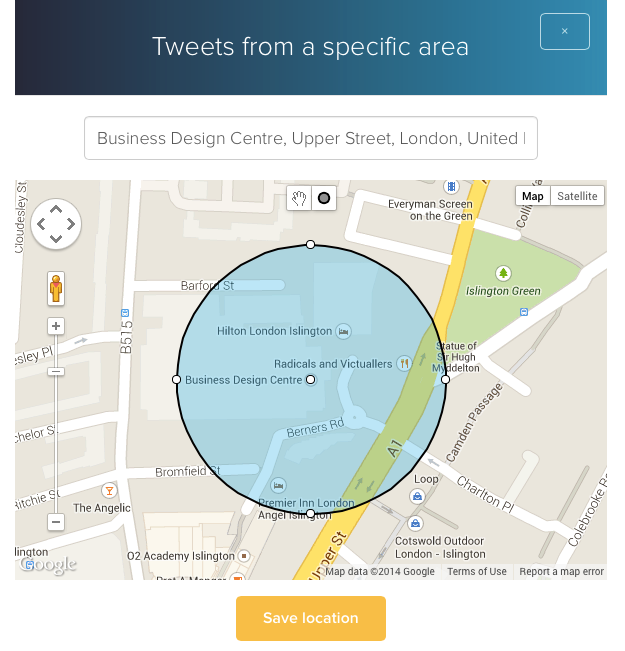 5. LinkedIn Keyword Search
LinkedIn is a great place, particularly for B2B businesses, to find content and discover leadership opportunities but it can often be difficult to filter through the noise. With so many conversations happening simultaneously, in articles and within LinkedIn groups, finding the ones that are relevant to you and your business can be almost impossible. As with many sites however, the interest of LinkedIn often extends outside of its own channel and as a result, Twitter search can provide a quick hack to drill down into the content and weed out the opportunities that matter. By searching Linkedin.com along with a keyword that's relevant to your business, for example LinkedIn.com marketing you can soon find a list of links from LinkedIn that will take you directly to the conversations that are relevant, saving you hours of time sorting through the ones that aren't.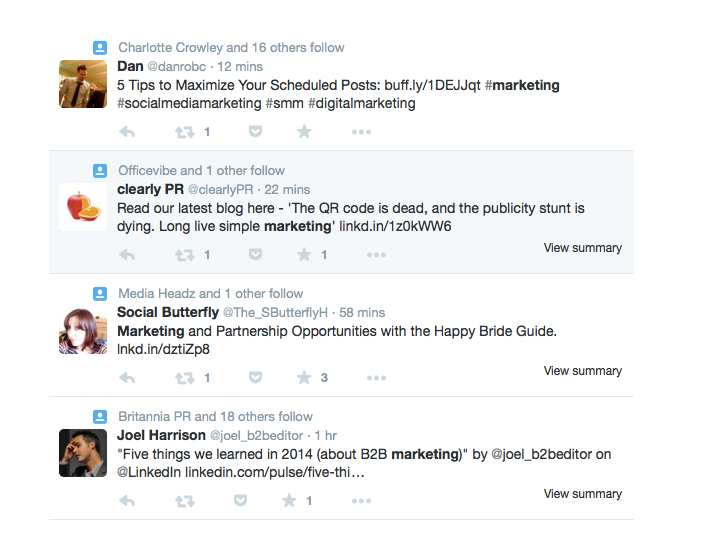 How are you using Twitter Search to find leads and uncover opportunity? Employ Twilert.com today for a quick and easy way to start using Twitter Search for your business and if you need any help, just let us know on Twitter or via email – we'd love to hear from you!