Twitter claims that not a day goes by where it doesn't test at least one new feature and the channel has been rolling out major layout and design changes since the beginning of the year. Add this to recent changes on other social sites and we think you'll agree that it can be difficult for social media managers to keep up. To keep you updated, we've created a round-up of the recent Twitter news that small and medium businesses need to know about to effectively optimise their Twitter presence.
Here's what we found:
Twitter Changes for Business
1. Interface overhaul
Twitter began to test a new profile page redesign back in February and is now offering the redesigned profile to all users [Get yours here]. Currently, you can choose to either update your profile to the new design or preview what it would look like, with the option to still revert back to the old design if you don't like what you see. It's assumed that Twitter will force all profiles to cross over to the new design eventually so it is probably best to optimise your profile now, to ensure that it looks at its best by the time the new changes are rolled out universally. The primary changes to note are:
– Larger profile photo – the profile photo has shifted position and is now larger – 200px x 200px as opposed to the previous 73px x 73px
– New header image – the entire top of your profile page is now dedicated to a large cover photo (1500px x 500px)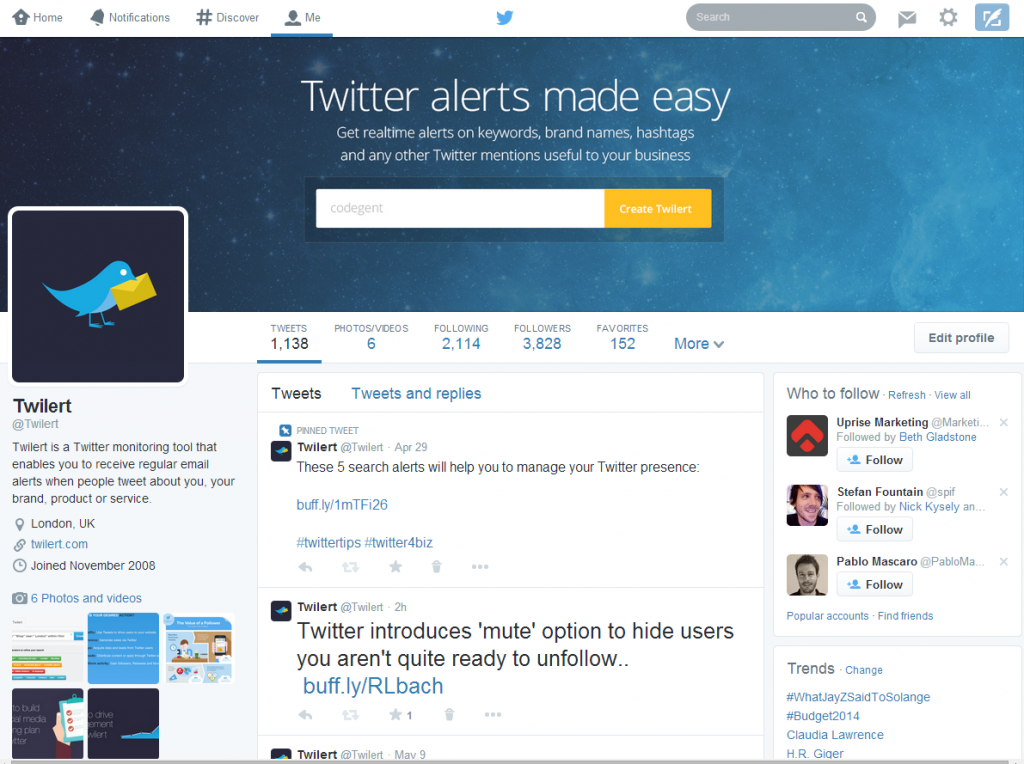 [Top tip: when you switch to the new design Twitter will attempt to resize your current cover photo to the larger size so you may need to upload a larger version]
– Best tweets – tweets that have received higher engagement (measured through replies, favourites and retweets) will appear larger than the rest of the tweets in your feed
– Pinned tweets – users can now choose to 'pin' a specific tweet to the top of their page which will be seen by all other users
– Filtered tweets – users will now have the option to filter a timeline by Tweets, Tweets with photos/videos or Tweets and Replies each time they visit another user's page
– Follower/following pages – the follower and following pages are now shown in a Pinterest-esque grid format rather than the previous list format
– Prominent favourite count – the amount of tweets a user has favorited is now displayed more prominently on the profile page, next to followers and following
– Enhanced image sharing (note: you can only use this feature on mobile at current) – mobile users can now tag up to 10 people in each photo, without having to use up any of the 140 characters in their tweet. Users can also upload up to 4 photos in a single tweet which can be viewed by both mobile and desktop users.
2. Changes to organic reach
Originally Twitter was set apart from other social channels with the premise that any tweet, by any user, would receive equal exposure in a follower's timeline. One thing that has become apparent is that certain tweets are now receiving priority. As with Facebook before it, this means that brands will now need to work harder to gain the same level of exposure. The main changes we've noticed are:
– Best tweets
As mentioned above, Twitter will now highlight tweets which have had higher engagement by making these larger in your profile feed. This is generally seen as a positive step for helping brands to recognise which of their tweets are most successful, but could also have a negative impact if the tweet has a high engagement rate for the wrong reasons. It's unlikely that a tweet telling users that your service is down (which has been repeatedly retweeted or responded to) is going to be the one you want highlighted in your profile feed.
– Paid advertising
Twitter advertising is now available to brands and SMEs in the US, UK, Ireland and Canada and Twitter is working hard to encourage businesses to adopt this method to target users. Advertising is currently available through promoted accounts, promoted tweets and Lead Gen cards [read our best practise guide]. Mobile app installs are also currently in private beta testing and we assume that this will be another method rolled out to all users soon.
While this is great for business users (with budget) is does pose the question of how long it will be before we see a big drop in organic reach, as Twitter attempts to move brands towards the paid advertising model.
– Twitter partnerships
Twitter has recently partnered with Comcast and NBCUniversal to allow users to access content and control their TV functions through Twitter. The social channel has also recently partnered with Amazon, in a new development which will allow users to add an item to their shopping basket, by responding to a tweet with the hashtag '#AmazonCart'. These features currently exclude all brands and networks other than NBCUniversal programming and Amazon but, as always, if it looks successful Twitter is likely to roll it out across a wider network in the coming months.
---
3. Changes coming soon?
– Real time notifications
Twitter is currently playing with a real-time notifications feature which their Product Manager Michael Ducker has said will help users to 'stay connected to what's relevant'. This feature will notify you when someone replies, favourites or retweets one of your tweets, sends a direct message or follows you (while you are logged into Twitter). It can be turned off in settings and will be rolled out across all users in the upcoming weeks.
– High engagement notifications
Twitter is currently testing a new feature for verified users called 'significant engagement' which sends the user  notifications when a tweet is receiving higher engagement than usual. The Next Web has reported that this is currently available for some verified iOS users and like regular notifications, can be turned on or off in the settings panel.
– Mute feature
Twitter has announced a new account feature called 'mute' which can be used by mobile and desktop users to effectively 'turn off' tweets from specific users. This feature allows you to hide tweets and retweets from a specific user without unfollowing them or stopping them from replying or retweeting your own tweets. This is available for some users at the moment by selecting the gear icon and selecting "mute @username" but will be rolled out across all users soon.
What's your experience of Twitter's new features – are they hit or miss? Let us know what you think on the channel itself or Facebook